We've ridden across the brand new Mumbai Sealink bridge a couple of times, but this is the first time that we'd brought a camera with us.

In addition to exhortations limiting the types of traffic allowed on the bridge, there were also reminders about how to drive. It is a little bit sad to note that, in a country which can turn out architectural masterpieces such as this, there are still oxen-driven carts and a propensity to drive without regard for the rules.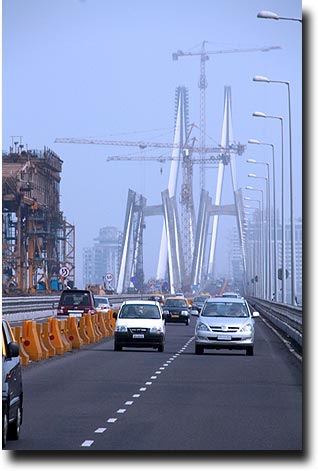 As we crossed over, we passed a fishing village situated on the site of an old fort that guarded the bay. Aside from the towering buildings in the background, it seems as if life has remained unchanged for a long time on the peninsula.

Exiting the bridge, we were glad to note that the new shortcut shaves off nearly 20 minutes of travel time, so that now the trip downtown takes us 'merely' an hour (in the mornings, with not much other traffic).