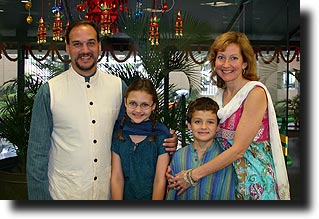 Diwali is the biggest holiday celebrated all over India. We were 'encouraged' to wear Indian clothes for our celebration at school and so here we all are!
Diwali is known throughout the country as the "Festival of Lights," so you can forgive me for confusing it with the Adam Sandler Hannukah song. Put on your sari, it's time for Diwali. Go eat some chutney, and celebrate Diwali – that sort of thing.
The school held a big celebration and assembly, and you can see some pictures from it here. The city itself has been rocking and rolling to the booms of fireworks for the last week or so, and will get even louder as the next week wears on. However, we will (sigh) be relaxing on the beaches of Goa, and so will probably miss out on most of the big noise.
However, in case there is ever any question about it, a few 'responsible adults' (as dictated by the package inserts) including me climbed onto our roof the other night and tested some Indian fireworks: DO NOT HOLD RAMBO BRAND FIRECRACKERS IN YOUR HAND WHEN YOU LIGHT THEM!!
In case you were wondering…