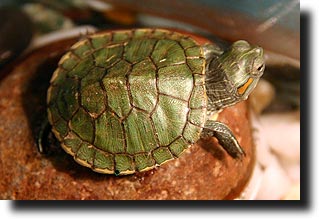 And here she is, our second pet. Given almost the same name as the original gecko we caught outside, Be-Be ended up in our lives as kind of an afterthought. The kids had been pestering Susan about getting an animal, but she wasn't budging (although I hope to persuade her about a cat some day).
Stella, our housekeeper, happened to be in the room during one of these conversations and she told Alea that she could get her a turtle the next time she went back to her village, as they were all over there. Well, we didn't think much more about it until the day that we can home from school and found her swimming in a big plastic bowl in the kitchen (Be-Be, not Stella).
Susan ran out and got a fish tank and some rocks, and Be-Be has inhabited a corner of Alea's room since then. We started her off on a diet of carrot slices, rice, and chopped veggies, but she has since moved up to chomping on any bugs we can find for her. It is a source of great amusement for the kids (just as the gladiator shows probably were for those little Roman children) to watch her chase bugs around that are twice her size, trying to take a bite out of them before they escape. Susan loves to watch Be-Be for signs of 'surfing,' which is when she climbs up on a rock and sticks her arms and legs out to catch the heat.