The rationale behind the Traffic in Bombay series grows from a couple of events that have happened in the past 2 weeks. The first of these gets written up today as a warning of your chances should you be involved in a road accident.
Two colleagues were on their way in early to the school, when they came across a group of men standing around a tipped-over motorcycle. Seems the guy driving the bike had lost control, almost run into them (they were pedestrians), and wiped out. Now, there is a motorcycle helmet law, but it is very selectively followed and enforced (although this seems to be improving), so the guy was not in good shape. The passers-by had already moved him – there goes any consideration of neck or spinal injury – but he seemed to be moving all right: the big problem was that he was vomiting blood.
The two women asked if an ambulance was coming, and the guys all shrugged. They certainly hadn't called one, no one else in the area had, and they were just standing around to see if the guy was going to die. Over the protestations of her driver, one of the women had the guys pick up the injured man and put him in the back seat (which luckily have plastic all over because of the two young kids in the family), where he proceeded to continue bleeding and vomiting.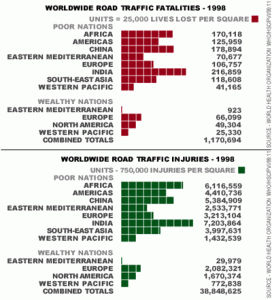 The driver took him to a local hospital – I guess the term would be 'indigent' or 'state' hospital – where the poorer people can get emergency treatment. When they got there, nobody came out to help the guy into the building (no crashing doors and clattering stretchers like in all the TV shows), so the woman and her driver dragged him into a waiting room.
She was very concerned about his status, having been trained as a nurse, as she was worried that he was bleeding internally – but no one in the hospital had much of a sense of urgency about them. (There are stories every day about people dying because A) they can't get to the hospital in time, B) they are turned away from the doors because they are too poor, and C) the care is not adequate when they finally do get admitted somewhere.)
We have all been given a contact number for an ambulance service in Bombay – dial 1298! – but having seen the state of the emergency services, knowing that ambulances do not rate any special deference on the roads, and witnessing the 'anything goes' rules of the Indian roads, it is no surprise that the Indian rate of death from traffic accidents is among the highest in the world.