Our girls (and boys, but as I was coaching the girls I paid more attention to them) did a fantastic job this past weekend. We had split our squad into two even teams, so it was really fun for us to watch them go after each other on Saturday morning.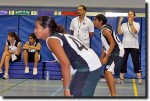 Overall they did very well, taking second and third as well as the sportsmanship trophy. We had super support from the student body as well, with loads of people showing up to cheer on the Eagles. I was extremely proud of the way they conducted themselves both on and off the court, and will miss their spirit next year!
I grabbed a few pictures from the school photographer, and you can see me hovering around in the background of them. It was kind of fun afterwards, when the coaches got in a game against the referees. I'm not going to win any awards, but at least I didn't embarrass myself playing!