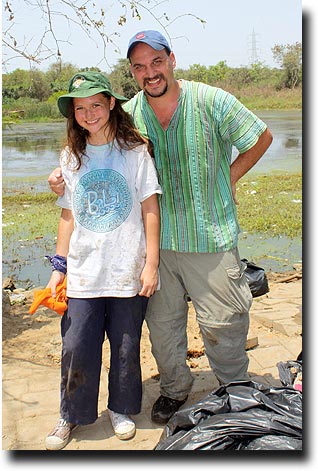 Alea and Dave had another Community, Service, and Responsibility day at school today, and we again headed up to some local mangroves. We have sort of 'adopted' one stretch of lakeshore, and so we were curious what we would find after our cleanup in November.
Sadly, there was all sorts of new plastic strewn about, but most of the kids rolled up their sleeves and got right to work. We were joined by some guys from a group called Sprouts, a local NGO dedicated to attacking various environmental problems around Bombay while educating people about these issues. They were extraordinarily enthusiastic and a lot of fun to clean up garbage with!
The most incredible "teaching moment" came, however, at the tail end of all our efforts. We were wrapping up, discussing as a group the day's events, in front of 35 dripping bags full of stinky plastic and garbage pulled from the lake, when a motorcycle roared up behind us. A man, woman, and little girl got off, walked around us, went to the lake, took out a plastic bag full of garbage, and dumped it in.
The kids were horrified and the adults were livid. The guys from Sprouts read the man the riot act, my cooperating teacher told him that apparently she loved his country more than he did, and the students simply looked on in shock. He mumbled something about 'returning nature to nature,' but when we pointed out that the plastic didn't belong there at all, he sheepishly shrugged his shoulders and bobbled his head. But at least he did pick up his trash and put it in the nearby bin.
What a poignant reminder of just how big the job is here in India. People talk about 'the white man's burden,' but in this case I really have a tough time understanding any other way to get the point across other than by throttling the population here and shouting, "Stopping throwing all this crap all over your own country!!"
Phew.
But on a more positive note, I do have to say that I am so incredibly proud of Alea. She was the single most hardest working person out there, getting all muddy and sweaty, leading by example, and really just making my heart swell with love and pride. Her efforts were commented on by her peers as well as the adults, and it was just a joy to see her out there, working so hard for the sheer pleasure of doing good.
So on the way home, I bought her a Baskin Robbins Oreo shake!!