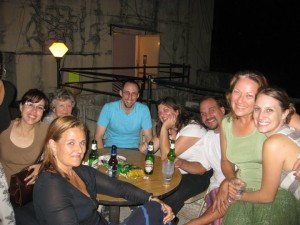 So Eddy put together another quiz night, and we threw another great party on the rooftop, and we ate way too much delicious barbecue, and drank way too many beverages, and stayed up way too late at night (or early in the morning), and took way too embarrassing pictures, and had basically way too good a time that we all spent Saturday recovering from.
Unfortunately, the Fab Fours – my team, who had been leading all the way through until the final 2 rounds – were not able to walk off with the winners' t-shirts this year. We faltered badly in the "name the company whose logo you see" competition – guess we're just not consumeristic enough.
There are some pictures up on Facebook – and many more which were judiciously left off! – but all in all it was another one for the record books. Maybe I'll have to steal his supplies and get something going in Jakarta!