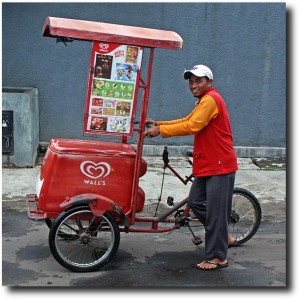 With Susan out of town for the week at a conference in Italy (lucky girl!), the kids and I have the house to ourselves. As a good father, I know that I should do my best to keep them on their toes, and I take advantage of every opportunity to drive them mad!
Nearly, every day, we have an Indonesian ice cream man pass through our neighborhood at least once, and often two or three times. We've never bought from him, and probably never will, as the quality of his freezer is sketchy, to say the least.
We always know when he's around, however, because of the tune that he plays as he pedals by. I can't remember what the ice cream trucks of my youth sounded like (actually, I probably could if I tried, but that level of effort would make my brain ache), but this tune is memorable. I found a recording of it, cleaned it up a bit in Audacity, and played it on "repeat" for about 5 minutes this morning.
Alea and Breck were not pleased.
But it was fun to do!
Want to hear an Indonesian ice cream tune? Be my guest: