Happy New Year! Welcome to the Year of the Horse!
We hope this finds family and friends around the world enjoying peace, health, and joy as we embark on a new year.
.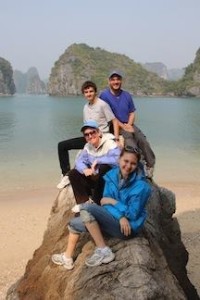 Our family continues to live, work, and thrive in Jakarta, Indonesia. This is our third year at Jakarta International School. Dave happily remains with MS math, Susan welcomed a move to Kindergarten, and Alea and Breck work hard in 11th and 9th grades respectively. Alea and Breck both play in the band and enjoy the rock-climbing club.
.
Alea squeezes Model United Nations and pilates into her busy IB/AP schedule. She also joined Tri-M music honors society and JIS orchestra, a service group helping local children explore instruments and music. Breck joined the magic club and has also become quite the stage lighting and 'green screen' expert. He has been asked to support the theater and tech departments at both the elementary and high school. He will work at upcoming shows of Joseph and the Amazing Technicolor Dreamcoat and Wizard of Oz.
.
Our family loves living life overseas as global nomads. We travel every chance we get and appreciate the diversity SE Asia offers. We launched 2013 in Cambodia and Laos, dove the walls off Bunaken, Sulawesi in April, and returned to Amed, Bali for more diving in October. We left on Dec 21 for three weeks of travel through Vietnam. We agree that kayaking in Ha Long Bay, clamoring through mud caves in Phong Nha, rock-climbing on an island in Long Ha Bay, biking through rice paddies near Hoi An, and eating our way through Ha Noi street food were absolute highlights!
.
Breck and Alea, given a taste in their social studies classes, were especially intrigued with the (recent) history of this amazing country. We toured Vinh Moc tunnels near the 17th parallel and saw bomb craters (currently used as fish farms) all over Quang Nam province. We believe one of the benefits of living overseas is the multiple perspectives we gain and develop about any historical event or situation.
.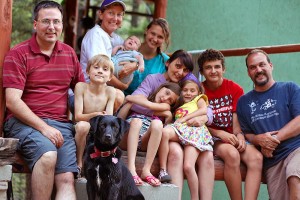 Of course, summers in the USA always reminds us how blessed we are to have family. We always enjoy our time in MT, but this summer was especially rewarding because we welcomed Alvin Fletcher to the Strachan-Stutz clan. While we are biased, we do believe he bears a remarkably handsome resemblance to Breck. As always, we thank and celebrate the Helena Stutzes who take incredible care of us when we show up. A highlight of this summer was time spent with Blanche and the nieces and nephews at Hauser and Clancy Recreational areas. Hard to believe, but the kids have never been to Yellowstone; we think this summer is the year…
.
Minnesota is always good to us, but we must admit that Door County, Wisconsin is pretty amazing. We spent a fabulous week there with the south-side Wagners fishing, cherry picking, and shopping. Best of all – we got all the smoked salmon we brought back through customs in Indonesia. Yum!!! Valleyfair with the Regan's topped the kids' 'thriller' hit-list and deck-time racing crawdads with the cousins at Grandpa and Grandma's cabin on Lake Vermilion filled the 'You'll never guess what WE did' quotient. Things as simple as shopping downtown, going to a garage sale, or attending a lake-side concert after berry picking take on a whole new meaning when enjoyed with family!
 .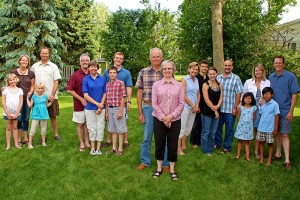 We plan at least one more year in Indonesia. Alea will graduate next year from JIS; it is exciting to think about the future. We have spent time in the USA these past few summers looking at colleges and universities for the kids and retirement homes for the parents. Time will tell!
 .
We wish everyone all the joy and love of this season. We are fortunate and we know it. We hope you feel the same!