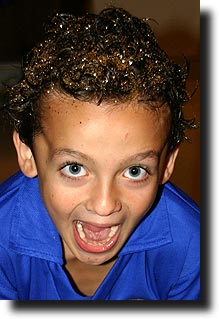 Whew. This week went out like a lion. It has been crazy, crazy, crazy around school as everyone in the middle and high school prepares for the "Week Without Walls" that kicks off next Monday. I'll be traveling with the 6th graders to Matheran for 5 days of team- and class-building activities. They are super excited about going, and I'm getting more so by the day.
Unfortunately on the home front, Alea has had to stay home the past 2 days with the same yucky cough thing that Breck had last week. She's really bummed, because today was Crazy Hair day at the Elementary School and she was part of the group that organized and designed the day. Luckily, Breck was there to pick up the Stutz family participatory slack!
But at least we all have Oktoberfest to look forward to. My list of things to do after school is pretty super long…
One of my colleagues told a little story about an occurrence in class, and it seems like a great way to end the week. Because kids read this, we'll replace bad language with little stars!!
It is quite an experience to be teaching with a bunch of kids for whom the English language, in all its beauty and nuance, is not their mother tongue. (Keep in mind this event happened in a class full of innocent elementary school kids – not the high schoolers!) Apparently the teacher made a mistake and said, "Shoot!" in class. One little girl gasped and said, "That's a bad word!" To which another boy replied, "No, Shoot is ok to say, but S**T is a bad word." Some other kid perked up and goes, "My dad says that G**D****T is much worse than that." And the sweet little angel across the room pipes up, "But my brother said that F**K was the worst word of all." Poor teacher had to wait a few moments, hand over giggling mouth, before retaking control of the situation.
Just a little flavor of the week, from all of us to all of you.