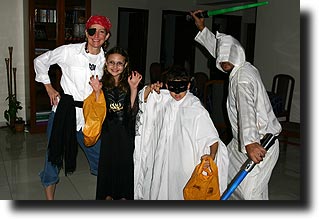 So here it is, one day after our Diwali shindig, and we had the big Halloween get together. (You can bet the kids are just going nuts at school with all the parties, candy, days off, and break coming up.) We had a trick or treating night at our apartment building, and all staff kids were invited to go up and down the stairs, knocking on all the doors and getting tons of candy. There were even 'adult treats' being cracked open in one of the apartments.
A few more pictures of the evening are posted here.
Breck and Alea did pretty well, and held their own in the trading sessions that followed. I was pretty excited to see that someone had even gotten ahold of Reese's somehow, and so I made sure to 'encourage' them to trade for those!!
Susan the pirate picked up the same cold that Breck and Alea had, and so she stayed for a bit as the pirate greeting the kids, but then she did make her way around to give holiday greetings to all. She was not feeling any better this morning, but still decided to come in to school, but was not sure if she would make it all day. (I find it amusing that our driver has the day off on Thursdays, and that is the day of the week that everyone in our family has been the sickest!) Hopefully she'll be feeling better by this weekend!