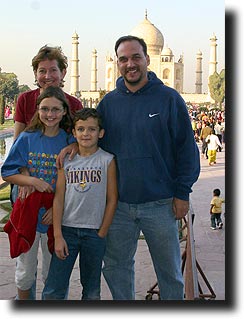 We're back from our "Golden Triangle" trip – safe and sound, battle scarred and road weary. Our trip was, in different turns (and often within minutes of each other) beautiful, dirty, frustrating, rewarding, restful, and stressful. We saw wonders of the world and soul wrenching poverty, experienced overwhelming environmental degradation back to back with fantastic wildlife conservation, and came away with a new appreciation for all that we have.
In fact, one of the most poignant moments was upon our return to Mumbai – as we were driving through the street, both Dave and Susan looked at each other and remarked at how clean and orderly Mumbai seemed!! After all our 'comments' about the quality of life here, seeing what things are like out in the sticks brought a new round of culture shock home to us.
In any case, we're back and will begin putting together pictures and stories from the trip, but this will be a very time-intensive project (as you can imagine). Patience, and we'll get these posted. In the meantime, Susan is taking off for a week in Jakarta, Indonesia to get some teacher training, so don't expect to hear much from her!