The whole school is aflutter this week because of a big technology conference we are hosting. There are administrators and tech personnel coming in from at least 26 international schools, and the 3-day conference is a huge showcase for the day-to-day uses of tech in the educational arena. Many teachers are personally delivering workshops: Susan is leading a group on the use of a digital document camera in the first grade classroom while Dave has 'farmed out' his presentations to students – they'll be showcasing subject specific programs to the conference attendees.
It is a pretty big deal for the school, as ASB is very much on the cutting edge of computer use in the classroom. In the middle and high school, all students have a tablet computer (think "laptop with swiveling screen") that they bring with them to all classes. The elementary school kids have a good deal of computer exposure as well – witness Alea's webpage and Breck's class blog. Of course, there are also a million other things going on, from grades being due to a PTA formal party, so there's no chance to sit back and bask in glory!
Just to keep things in perspective, however, I did have to laugh at what I got when I googled the asb unplugged conference: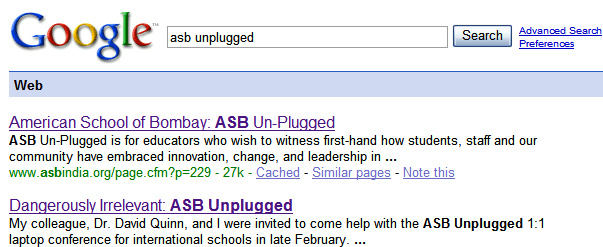 I was relieved to note that – no, people didn't (necessarily) consider the conference to be 'dangerously irrelevant' – this is the name of a blog run by Scott McLeod, one of the keynote speakers at the conference. Whew!