We get these little tastes of Indian culture from time to time here at the school, and today was one of those special occasions. There has been talk of a 'famous Indian dancer' coming to perform at ASB – her name is Malavika Sarukkai and she is lauded as one of the best of the best classical Indian dancers. There was even a performance last night: Sunday evening is a really tough time to make anything happen with a family (even ignoring the hellacious traffic here), so we gave it a pass. Luckily enough, she was scheduled to come during the school day.
We had a special schedule all day long to accommodate her performance during the last hour of school. Now, anyone who knows anything about kids is probably thinking, "What the heck is that school thinking, screwing up the whole day's schedule and putting the kids on edge so they can sit and watch a lady dance during the last hour of school? What a recipe for disaster!" I'll have to admit, I was thinking much the same thing, especially given how squirrelly the kids were all day long. But boy, was I wrong.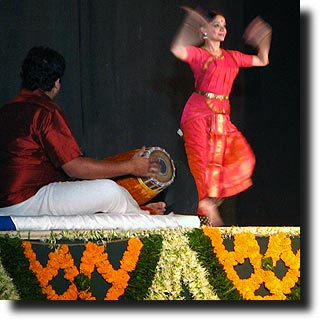 Malavika came out and introduced the performance by invoking a prayer to Ganesh (whose blessings are supposed to clear all obstacles out of your way for a successful undertaking). Then, instead of dancing, she actually led the kids through a rundown of the instruments that were playing, giving each musician a brief solo, and then showed some of the basics of the dance moves. When she finally got around to dancing, the kids were raptly watching to see the foot movements and hand motions that she had described.
After every few minutes, she'd take a breather (literally) and come back to the microphone to describe her art some more. To finish the performance, she asked the audience to suggest a line of poetry that she could interpret. The first thing that leapt to my mind concerned a man from Nantuckett, but I remained discreetly silent. The stanza that made it up to her was "Two roads diverged in a yellow wood and I took the one less traveled." I mean, it was really darn close – I sure didn't know that it was in a yellow wood (what kind of trees are yellow, anyways?).
She proceeded to dance her way down a road not taken, coming into contact with bees and rain and flowers and animals – signified by her hands. And the kids knew exactly what she meant! She showed them sights of her working in the garden, meeting a god – all your pretty typical afternoon goings on down the back roads of India. All in all, it was a spectacular performance and a super way to round out a crazy day.