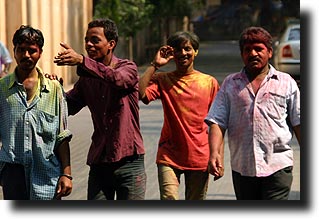 What a rookie mistake. You'd think that after 38 years of life and more than 6 months in Mumbai I would have learned my lesson.
I made the number one error that expats living in India simply cannot afford to make: I left the house without a camera. Inexcusable, especially given that I knew it was a holiday, and a holiday that would be colorful and peopleful and photographableful.
Let me explain, if not excuse.
Today is Holi, an Indian holiday that is pretty much right in line with Easter (which is tomorrow). It is not like Easter in terms of Jesus being crucified and then coming back to life, but rather in the sense that it is built on the idea of an agricultural theme: death and rebirth and all that. Holi celebrates the coming of the spring season and the 'recoloring' of the countryside as plants sprout and grow. To celebrate the occasion, Indians spend the morning spraying each other with colored water, throwing water balloons filled with paint, and generally turning friends, acquaintances, and strangers into walking tie-dyes.
We – being a bit worried about some of the stories we'd heard about unsafe dyes and dangerous chemicals – decided to forgo the celebrations (and actually spent the morning engaging in our own, Western, take on the idea of paint celebrating the spring – we colored Easter eggs!). But this afternoon, Breck had been invited to a birthday party, so he and I had to head out in a rickshaw to "The Club" located in a suburb north of us.
Now Breck (and Alea) have been really funny lately about Susan and me taking pictures, and that is the only possible rationalization for what I did. I had everything all set up – battery charged, card cleared, bag packed – and then, like a total fool, decided not to bring the camera along. I didn't forget it, I just didn't bring it.
We went out, and before we even got into a rick, I realized that I had made a mistake of colossal proportions. People were all over the place, simply covered head to foot in pink, blue, purple, yellow, green, silver: every color imaginable. As we made our way north, we passed motorcycles full of painted families, rickshaws jammed with smiling kids, the streets teeming with colorful Indians. They would smile and wave at Breck and me, just happy to be out and about with the fresh paint dripping everywhere. And I had gone out without a camera.
By the time we got to the club, I was literally sick to my stomach. Not only had we passed incredible sights along the way, but I knew that I was stuck at the birthday party all afternoon: everything would be over by the time we got home. Talk about a wasted opportunity – unbelievable. I called Susan and managed to convince her to go out and take some pictures. She wasn't too excited about doing so and so only went out around the block near our house (which is not a hotbed of activity by any means). But she did get a few shots, and those are what you see here.
I am glad that she did go out, and of course she tries to soothe my self-anger with, "Oh well, you can always take pictures next year." Unfortunately, next year Holi is on Wednesday, a work day, not Saturday. I am simply disgusted with myself for going so far against my better judgment and letting such an almost once in a lifetime opportunity slip away. If you are in India on Holi, do not under any circumstances go out without your camera. You will hate yourself in the morning.