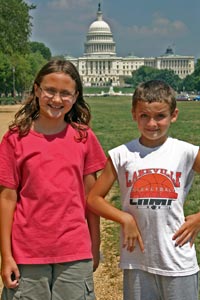 Well, we made it to DC, and are having a great visit with Uncle Rob, Aunt Blanche, Boyd, and Sam. They have been so gracious in letting us use their apartment, which is conveniently located right near a Metro stop, so we've been able to zip downtown on a couple of occasions to see a few of the sights. They are in the process of moving to the new-to-them house they just bought, so everything worked out perfectly.
Yesterday we spent the whole day with YiaYia at the Air and Space Museum (and the only one asking "Are we done yet?" was Susan!! We eventually let her go to the National Gallery of Art across the way to get her daily dose of culture!). This morning, we are heading to start at the Lincoln Memorial and walk the Mall to the Museum of Natural History.
Even though we are in the midst of a DC heatwave, we are feeling right at home. The jetlag has been negligible, and we are so excited to be getting our summer off to such a great start. More info as we travel around, but suffice to say at this point – we're back in the USA, we're healthy, and we're happy!!