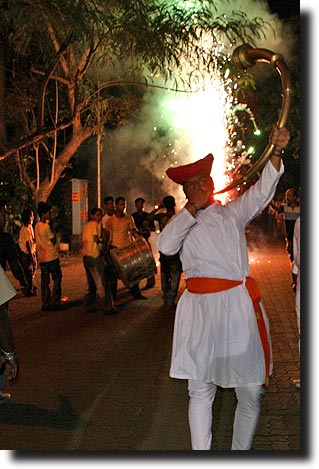 Since this is the time of year when the drums, firecrackers, pyrotechnics, and music all combine to give us a sleep-depriving evening cacophony, it is only fair to acknowledge that the visual feast rivals that of the aural treat.
For many of the 11 days between last Wednesday and next Sunday, worshippers of the Hindu god Ganesh march behind brightly lit and colorfully festooned idols, taking them to the seashore to immerse the statue and bid farewell to him after his yearly visit.
Our house, while not in any way on a main throroughfare for these trips – especially since we are far from downtown (where the really crazy action is) – does get a fair amout of noise from these processions during the course of the holiday. A small side street apparently acts as a shortcut of sorts, and the Ganesh devotees make their way through the very narrow walls at a snail's pace.
The other evening, after an extended round of fireworks went off (just as we were putting the kids to bed, of course), I decided to grab the camera and head down. When I got to the street, the place was crazy crowded, with the masses swaying back and forth and chanting. I ran into one of my fellow Kiara residents there, and we were soon tapped on the shoulder by another couple who had come out.
The worshippers were very tolerant of us running around taking pictures (as many of them were also), but at the same time they had a very specific purpose for being out that evening and were not going to be distracted from it. We observed and followed the procession for several blocks, and then let it head off down the road, eventually to reach the beach.
More pictures and descriptions of all this activity are on our webpage. It also links over to other pages showing some of the street decorations as well as the Ganesh activities and rituals (including the immersion). Enjoy!