We are, indeed, a week or so late – but that's ok! Because of the week without walls trip and Diwali break, our Halloween celebrations didn't take place until yesterday, but we sure jumped into them whole heartedly!
We had bought some Indian pumpkins – green, not orange – before our break, and kept them in the refrigerator to keep. Unfortunately, some froze and were no good, so we ended up with only one to carve.
But, the kids were sure excited about designing and cutting the face. Alea drew out the eyes, Breck liked a square nose, and Dad tried some fancy teeth. Breck took a turn cutting for the first time, and did a super job pushing the knife through the thick skin.
The seeds and scum inside were really cold (having just come out of the fridge), so Alea and Breck took turns scooping everything out. We got quite the assembly line going, where they would pull out a handful and hand it to dad, who separated the seeds from the other stuff and set them aside to bake (of course!). Mom sat at the other end, giving advice and taking pictures. A true family effort!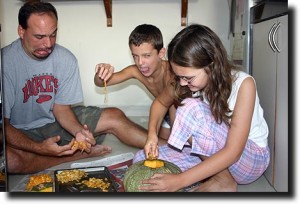 By the end of all the work, we had a great looking pumpkin all ready to fire up and scare the trick or treaters!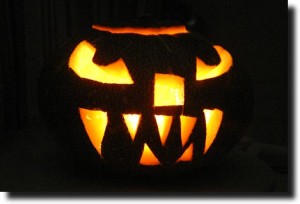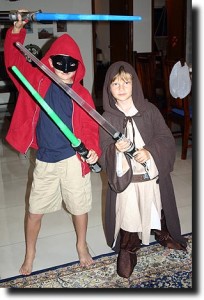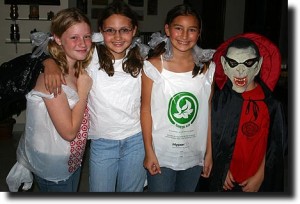 The kids got into the spirit of things with their costumes. Breck decided to bypass the Yoda look he had worn to school and went as a "Mysterious Jedi," complete with mask, hood, and two lightsabers! Alea and some friends all got together to be "Plastic Bag Princesses," a take off the book "The Paper Bag Princess." (obviously the ogre at the end went with a different theme for her costume!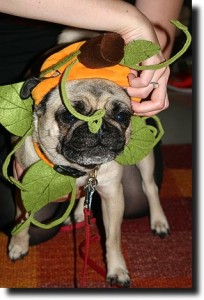 We played scary music that echoed through the hallways, and the floodgates opened at 7. By my count, there were 22 kids running around and knocking on doors, looking for goodies. By 7:15, every apartment had been visited (sometimes even more than once by enterprising trick or treaters!), and people slowing began migrating down to the designated gathering place for candy swaps and treats for the adults (ahem). It actually turned into quite a good party, with conversation about politics and sports, kids trading huge piles of candy, pillow fights, and even the Thriller video!
With a surprise visit by the Great Pumpkin (disguised as a dog), the evening was complete. Dad had to drag Alea home at 11 (mom and Breck had left a bit earlier, as he is still getting over being sick), but the kids were already plotting what they were going to be next year. A super special scary evening, and a ton of fun for the start of the month.
And now – it is time to pull out the Christmas stuff!!!!!