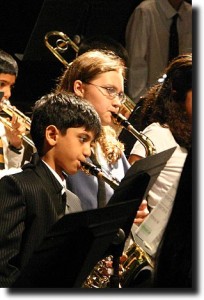 The security situation here has resulted in an awful lot of events (that an awful lot of people were looking forward to) being canceled: community tree lighting and concert and buffet, Family Fun Day, the middle and high school winter social, the evening theater performance – even the soccer teams were not allowed to travel because of concern about airport safety. It is kind of a bummer for all the kids who have worked so hard preparing teams and songs and activities, but they are – for the most part – very understanding of the issues at stake and the reasons behind the caution.
Luckily for us, however, the band and choir were still able to hold their concert on Wednesday afternoon, and it was sure a lot of fun to see all the kids dressed up and letting the beautiful music flow. Of course we were 'most proudest' of Alea, who played a selection of songs with the 6th grade band. Great stuff, and she even got to pick dinner afterwards (she chose to test out KFC's new delivery service).
Her band teacher requires students to record and submit assignments to his 'blog,' where he can listen to and grade them. Alea's address is http://asbband0664.tumblr.com, so you can go there and listen to her brief song. Enjoy some music for the weekend!