Two great tastes that taste great together, right?
Actually, they have nothing to do with each other, but both are bouncing around in my brain tonight.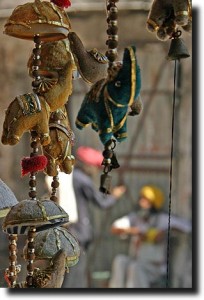 Udaipur is bouncing around for a "good" reason, as I've finally finished our trip pages. We visited the city during our Diwali break at the end of October/beginning of November, and what with all sorts of craziness going on here I just have not been able to get the pages done. But – done they are – all eleven of them! I kind of skimped on cool shots from the last day, but Susan already thinks I have enough 'pictures of India' anyways, so I guess that's no big deal.
Hawaii is bouncing around for a "silly" reason. All day long I have been unable to get the Christmas song Mele Kalikimaka out of my head. And all day long it has been echoing through my skull with the word "Hawaii" replaced by "Mumbai." I finally asked one of the school drivers how to say "Merry Christmas" in Hindi (he didn't know it in Marathi), and now, to exorcise this demon, I present the verse of the song (hum along in your best Bing Crosby voice):
Shuber Nadal is the thing to say,
On a bright Mumbaiian Christmas Day,
That's the Hindi greeting that we send to you
From the land where rickshaws sway.
Here we know that Christmas will be hot and bright,
The sun to shine by day and all the fireworks at night,
Shuber Nadal is Mumbai's way
To say "Merry Christmas to you."
Please let the madness end!!