Huge weekend plans for Breck – his birthday is on Monday, which is also Chinese New Year this year as well as India's Republic Day. Since that is one of only two national secular holidays, it is celebrated with parades and fireworks and a day off from school; he is pretty darn excited about having no school on his birthday.
Since this is a great opportunity to have a lot of fun with him, we had a ton of stuff planned. On Friday he took treats to school and then went to a friend's house to play (while mom and dad both had separate TGIF parties to attend). On, Saturday we had a birthday party for him at home with some friends, after which Dave took them all to a nearby mall (nearby meaning a little less than an hour in traffic each way) for video games and Pizza Hut. Today he is enjoying all his friends' gifts – righ now he is trying to figure out how to play a new Star Wars computer game. And on Monday, we'll do a family thing with him. What a lucky guy!
Susan was really annoying me, however, all day on Saturday. Because of the vagaries of trying to 'time' how long it will take to get anywhere, we had told kids' parents that we'd be done around 6 in the evening. For some reason, Susan kept calling the whole time we were at the mall and coming home: "What are you doing now?" "Are you eating yet?" "How come you haven't left yet?" "What's taking you so long to get home?" etc… I was tempted to just shut off the phone, and was getting tired of being nagged so much.
We finally rolled in at 6:20, which I thought was pretty darn good. As I walked in the door, Susan grabbed me and said, "I need you to help Alea on the roof. She's gotten into a huge fight with one of her friends up there and I don't know what to do about them." So here I am, after a full day of babysitting a bunch of 4th graders at the mall, being dragged into some kind of middle school catfight. Sigh.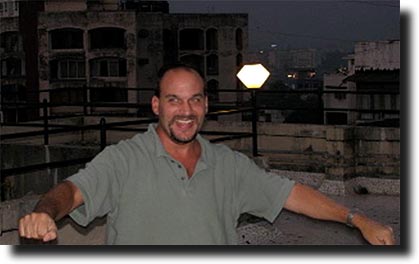 When we made it up to the roof, I turned the corner and a whole bunch of people started singing, "Happy Birthday." My first thought was that I needed to get Breck up right away, since he was missing his song. Then I noticed that they were all looking at me and laughing (which, granted, isn't that unusual an occurence), so I figured that something else was going on. When the voices stopped, Susan explained that it was my half birthday, and since I have never had a full on birthday party (because we and our peers are always dispersed across the globe by the time June rolls around), she had set up a surprise "Half Birthday" party. Seeings how my next age change brings up the big 4-0, that fit even more splendidly into her plans.
Having a huge group of people waiting around explains her 'nagginess' during the day, as she wanted to make sure that I would be home at a reasonable hour, so I guess I can forgive her! It was a perfect evening for a party, and there was a ton of barbecued meat, catered snacks, and cold drinks. People kept saying "Halfy Birthday" which I thought was cute, and brought all sorts of fun gifts for an old man. One of the most original was "Four Teas for Forty" – a selection of herbal teas, each of which is supposed to help shore up different bodily functions for the elderly: mental agility, iron absorption, bowel regularity, and, ahem, "physical fitness for matrimonial relationship building."
As things turned out however, that last tea wasn't needed after the party. Nope, not needed at all:
It turned out that Breck's teacher brought cigars, and Breck was so distraught at seeing his teacher smoking (having seen very graphic pictures of the effects of smoking during our trip to Thailand) that, after the party, he had to cuddle with mom all night.
So I ended up just kind of cleaning up on the roof after my own party. And then crashing, alone. Thanks alot, Mr. Jordan.