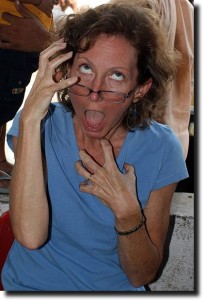 We are back from our long weekend trip to the beach – sunburned and wind swept. It was one of those breaks that ended up being just a bit more stressful than planned, and thus probably subtracted from our overall relaxation quotient rather than adding to it.
In a nutshell, what we had decided to try as a 'short, easy to do on a weekend from Mumbai' getaway dissolved into a trek that involved an hour taxi ride, an hour ferry ride, a 45 minute bus ride, and a 2 hour rickshaw ride – not counting connections – both coming and going. Coupled with a number of "Indian moments," then, the overall report on the adventure was not overly positive (Breck called for a vote on the way back of who wanted to never go back to Alibag, and it was 3-0 with one abstention).
Ahh, tears and curses and scoffs and scowls: that's what a family vacation is all about.
But on the other hand, we certainly feel blessed enough to be able to take these vacations with each other. Obviously people got a glimpse into the rougher side of Mumbai life in Slumdog Millionaire, but our community got another sudden jolt of reality that hit even closer to home.
One of our students died last week as a result of a tumor. The disease revealed itself just last year and worked its way quickly through the young man's brain, so we are all sobered by the capriciousness of life. Our hearts go out to his family – his dad and I coached Breck's soccer team this fall, the same team that his younger brother was on. We can complain about our personal circumstances – but in the end we must consider ourselves lucky that we keep experiencing them.