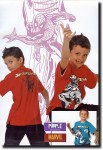 Our weekend turned out to be a crazy filled couple of days, with a play date after school Friday, the huge Family Fun Day at school on Saturday, and a modeling shoot for Breck on Sunday. In between all that stuff, we managed to barbecue, buy some shoes, go out to dinner, hang some new pictures, finish all our homework, and even play with our Kiara friends a bit.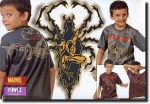 Sunday morning, Breck and I went to get him 'shot' again. I know Breck enjoys the prospect of some pocket money and the chance to eat a bunch of Dominos pizza! We asked what happened with all the photos that are taken, and the photographers took us to a nearby store that had pictures of Breck hanging all over the place!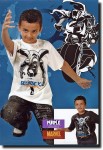 The employees were smiling when Breck walked in, pointed, and shouted, "That's me!" The shoppers were giving him double takes as well as we walked around the place. No one asked for an autograph – this time!
His favorite shot was a huge poster with six different poses of him on it. Unfortunately, I didn't have my camera along, so we asked one of the guys with us to take a picture on his mobile camera and send it to us – we'll see if it makes it.
They did give us three of the extra pictures, however, so we can show off how Spiderman Stutz is taking the Indian scene by storm!