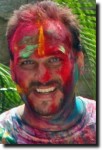 We took full advantage of today's colorful Holi festivities, setting up a water fight at home and traipsing around the neighborhood to catch a glimpse of India at its finest.
We missed a lot of the excitement last year, and so wanted to make sure we caught what all the fuss was about (and we did!).
All the pictures are over on our webpage, so pop on over and check them out!