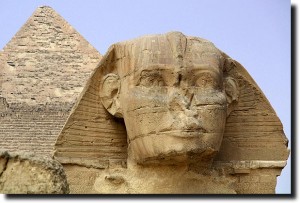 Our conference/vacation in Egypt has wrapped itself up, and we have made the long slog home safely and soundly. We rolled in around 8 this morning after a bit more than 12 hours of travel time (Cairo-Dubai-Mumbai), and we are spending the day unpacking, settling in, and trying not to think about school tomorrow.
During the first part of the past week, mom and dad attended education-related workshops while the kids saw the Pyramids, visited a Pharaonic village, and created art products with other attendees' children. When the work was all done, we banged around Cairo a bit, and did a whirlwind tour through Luxor (the site of ancient Egypt's capital city and the Valley of the Kings burial area).
We had 2 cameras with us, so the picture count is well over a thousand (gulp!), but it may be a while before extensive organization and description will take place. Until then, enjoy the classic shot of the Sphinx!
(And oh yes, due to the travels of this week, we will be Easter egging next week. Since that is Orthodox Easter, we figure we've earned the right to celebrate it then because of Yiayia and our time in Serbia!)