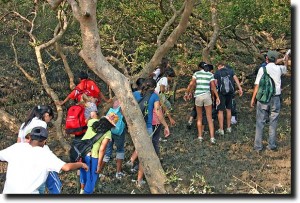 Today is our Community and Social Responsibility (CSR) day in the middle school, and all the classes are off doing service projects around Mumbai. Alea's sixth grade is working with a group called Welfare of Stray Dogs, while Dave's seventh grade advisory is off to clean up mangroves. We had an earlier experience at both these places last fall, and so this is the follow-up to those visits.
We are looking forward to an engaging and interesting experience – hopefully filled with lots of dog hair and mud! I'll see if there are any pictures to post this afternoon…
UPDATE: A super full day – not as muddy as we'd thought, but hotter and stinkier. We're trying to put together a ning about what we're learning (a ning is a social-network type site), so you can check out how we're doing and see a few pictures!
And oh yes – I almost forgot to show off my second-year-in-a-row NCAA bracket championship! I won with my other bracket, the one I didn't post here. Go figure…