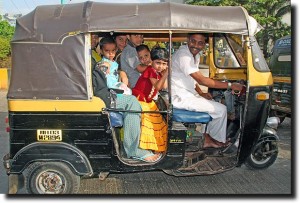 On our way home yesterday from Alea's band concert (see tomorrow's post for a poem and picture combination!), our family of four took separate rickshaws. We figured we had too much stuff and we'd just be too crowded in one, so the girls took off and the boys followed behind them.
Now rickshaws are often full of things other than people: just the other day one was stuffed with dvd players. On other occasions we've seen goats, vegetables, even a toilet being transported in these things. At a light near the school, though, we saw a great example how a rickshaw is meant to be packed!
There were at least 8 people in it (counting the driver), and they thought it was quite amusing that we wanted to take a picture (luckily I had the camera from the band concert). One lady – the closest one, dressed in black – did duck her head out of the photo, but I still like the way you can see just about everyone looking at us.
Just to keep things fair, I also took a picture of Breck's face reflected in the side mirror as well!
And, when the traffic started moving, we waved goodbye and sped off to our apartment, about a half hour (and $1.40, including tip) away, where we celebrated the successful concert with an order of traditional Indian KFC.