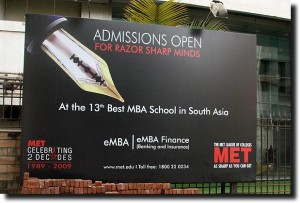 Or at least be 13th best!
We pass this local college every day coming home from school, and I just had to get a shot of this sign (BTW – billboards are called "hoardings" here, in case anyone ever asks you). They'd had the same ad last year, and I never took a picture, but it is back for another round, and I got my shot this time.
I suppose there is a very specific demographic to which this university is appealing – MBA students who want to attend a college in not just any part of Asia (it has to be South Asia) and have a school that is good but not too good.
I do wonder how they decided to advertise as the "13th best" as opposed to "One of the Best" or even "in the Top 15." Of course, 13 doesn't have the bad luck connotations as it does in the West, but that designator is still somewhat funny.
Oh well. Seeing this reminded me that I have a ton of pictures from this past year that have not yet been posted (yes, including the Egypt trip, but that is moving really slowly right now). These last few weeks are killer, what with end of the year hoopla, goodbye parties, report cards, packing, buying a house (surprise!!), etc, etc,etc. I'm not sure how much of anything I'll get to, but I did put together another "Life in India" photo montage for the webpage, so enjoy the photos!