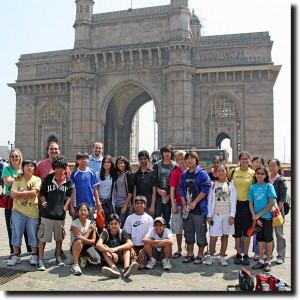 Winding up the school year, one of my 'chores' is emptying everything off the computer. It is kind of like cleaning out the attic at times; you never know what you'll come across.
In any case, as I was moving pictures and such over to my backup drive, I found some pictures that I had meant to post but had never gotten around to. No, not the Egypt trip. Those pictures are done, but we are having severe laggage in getting the travelogue part actually written. (the pictures and page navigation are here, but are still in a very disorganized and incomplete state).
These are actually from our Mathcounts competition back in Februray. As part of the weekend's events, we took the participants downtown to see some sights and find some Mumbai math. It was a great afternoon, and we did get to take some fun pictures on the way down, so they are now posted as another view of our life here.
But the truly unique visit that we made that afternoon was to the Dhobi Ghats – the sprawling area of town where dirty clothes from all over the city are brought in to be slathered in soap and slapped against the concrete walls of hundreds of open-air laundry stalls. Quite the sight, and an iconic Mumbai landmark.
And while we're on the topic of last-minute webpage updating and all, I just realized that – while the pages have been up for quite some time – I'd never made a blog blurb about adding them. So, in case you hadn't noticed, the Alibag trip page is posted as well!