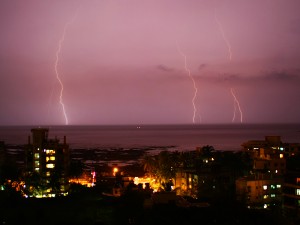 Our TV is still on the fritz (and our building elevator and internet went out last night) from the continuing electrical storms in the area. We had some neighbors come up to watch the show in our apartment last night, and they talked me into trying to get some pictures.
Now, going up onto the roof of a building in the middle of an electrical storm is probably not a real smart idea, but we waited until things moved off a bit, and then jury-rigged a setup as we stood around in the water (smart) with the camera sitting on top of a metal table (smarter) elevated higher above an air duct (smartest). Setting the camera to take a 6 second picture, I pointed it out and tried my luck.
I got quite a few pictures with no lightning at all (of course), and most of the first shots were way out of focus, but I did get a couple of 'keepers.' It is pretty interesting how much lighter the first scene is, just because of the number of bolts that hit during the exposure.
The photos have been cropped to be the correct size for a desktop wallpaper, so enjoy if you want. In any case, now you know why we've been having all these electrical problems!