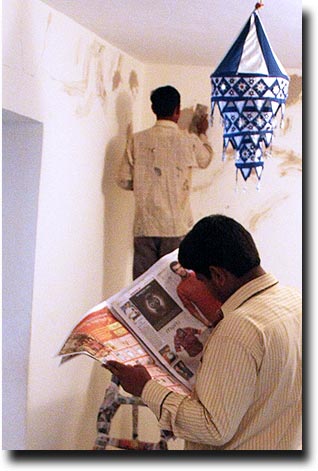 Now that the monsoons are pretty much over, we had the water-damaged areas of our apartment repainted. A three-man crew came to take care of the job, and I just had to laugh at how they went about doing it.
This being India, they didn't bring anything other than paint and brushes: they asked us for dropcloths, ladder, tape, sticks for stirring, etc. They requested newspaper, and luckily we had two days' worth in the house (we thought it would be used for floor protection!).
Of course, there also has to be a bureaucratic breakdown in who does what. That is one of the maddening infuriating frustrating interesting things about life here: there are usually many more chiefs than Indians (no pun intended).
If you want something done, it usually has to go through at least three layers of hierarchy before an action is actually performed. There are people whose job – literally – is to take orders from others and then pass them on to underlings. That's it.
And forget about doing work that is 'below your pay grade.' Never will happen. If a 'peon' is supposed to be doing the work, and you are just standing around waiting for him to show up, taking the initiative to get the job done rarely even crosses the mind. So much for the can-do attitude!
So – it was entertaining as anything to watch the painters at work. Two guys scraping and priming and painting – and one guy reading the newspaper. All day long. Excellent.