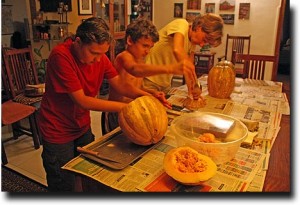 Since Susan is hosting a book club meeting tomorrow night, we figured we'd get our jack o'lanterns done a few days early. Our maid had picked up a few (greenish yellow) pumpkins from the market, and a neighbor from downstairs brought up carving magazines and stencils (I kid you not).
Oh, in case you were wondering – here's a little bit of international Halloween trivia to keep handy: Indian pumpkins are MUCH easier to carve than Serbian pumpkins. They are soft and scoop out with very little effort.
In any case, there were some scary faces, a stenciled-on spider, and Breck even carved his very own pumpkin for the first time – a zombie! Aside from the cheesy (pumpkin) pi tattoo I gave mine, the evening was a success. Plus we'll have lots of roasted pumpkin seeds to eat!
So now we are all set for the girls coming over to talk about "People of the Book." I won't be attending, but just for the record I thought the end of the book ruined the whole thing: how in the world could he have recreated – perfectly (except for the wrong skin) – the book. Silly, silly, silly, and there goes all pretense of reality for me.
Oh but wait, this post is about pumpkins. OK – so this is what they looked like in the end. Now we've gotta see if they last until Saturday!