We had our traditional Kiara Halloween fest last night, with a ton of kids from school visiting and a bunch of parents doing the same. The young ones roamed up and down the stairwell, going from room to room collecting goodies, while the old ones congregated in one apartment, enjoying adult beverages and even special jello!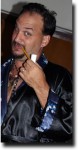 After the tricks and treats were done, the kids came to our place to watch Charlie Brown and Monsters Inc. All reports indicate that they were well behaved, even with the sugar high they were sporting.
And the Stutz costumes? Susan wore her Boo!! T-shirt and kept the home fires burning, Breck was Billy the Kid from Bill and Ted's Excellent Adventure, Alea was an Emo (not Elmo, but Emo) and Dave played a suave Hugh Hefner.