Our first Christmas-themed poem of the season, relating to events from last weekend:
Up on the rooftop, barbecuers pause
Sounds like the clitter clat of little paws
Skitter cross the guard rail with lots of noise
Little ones shriek, both girls and boys

Ho ho ho, who wouldn't go? Ho ho ho, who wouldn't go?
Up on the rooftop, pit-ter pat
Down through the drainpipe with a great big rat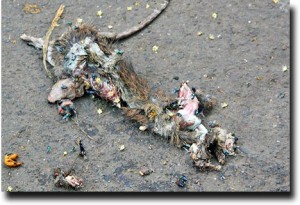 We'd always thought that being 'up' in a building would protect us from rodential infestations, but apparently not. A group of us saw a rat running around up there while we were cooking dinner – hence the inspiration for this week's rhyme!
And just for reference, here's one that was outside our building the other day. Maybe this is what happens is a rat loses his grip and falls…