Oompah-loompah doopidty doo: that's how we all felt last night as we tried to sleep on tummies stuffed with food. We had an outstanding meal, made all-the-better by the fact that we had good friends as guests, really making the holiday complete.
So let's see – the menu was rotisserie chicken (which we cooked for the first time ever on the barbecue and which turned out great!), mashed potatoes with gravy, yams (Indian yams: not really yams and not really sweet potatoes and the only disappointment on the table), squash, green beans with almonds, stuffing, pumpkin muffins, jello, spice cupcakes, apple crisp, and ice cream.
We ate and drank to excess, and then finished off the evening with rousing games of Eye-to-Eye and The Game of Things, and the promise of an invite to Google Wave (which we're still awaiting, BTW). All in all, a nearly 6 hour festival of gratitude. My "what are you thankful for" was that this year, unlike last, we were not celebrating the holiday under an umbrella of uncertainty and fear.
This weekend doesn't just revolve around the giving of thanks and the consumption of copious amounts of fowl, however. It is also the Muslim holiday of Eid, so our basement is once again filled with goats.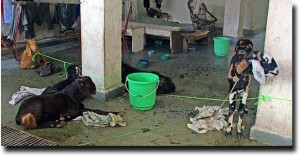 They don't know it yet, but they are scheduled to be ritually slaughtered today – Breck has been asking whether or not he can watch. Raising your kids internationally lesson #274: instead of crass commercialism during the holiday season, we get a discussion on the differing religious traditions.
But I suppose it is not much different from that-which-gave-Alea-great-pleasure this weekend: Uncle Billy got a big buck hunting, which means there will be venison sausage for her this summer!