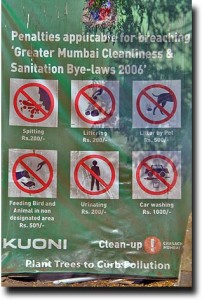 Washing your car or urinating in public?
Yeah, that's what I thought too, but apparently the city of Mumbai doesn't agree with my assessment of the situation. We went downtown the other week and I was able to snap this picture of a 'civic awareness' sign.
While it is certainly interesting that a car wash sets you back about $20, and that feeding animals will ding you $10, the far more fascinating bit is that it is apparently worse to let a dog "go" in public than for a person to drop trou! Again, the priorities and heirarchy of concerns are fantastic.
I'll jump on the bandwagon that an acquaintance of mine here in Bombay started. Actually, he's not really an acquaintance yet, since we haven't met in person, just electronically. He's the dad of a student I teach, and we seem to share a lot of the same amusement at Indian quirks. In any case, he set up a Facebook album of Indian Street Signs that I hope you can see. I'll post a few more of those that we've come across as well – although to be honest, I'm afraid we've gotten so used to them that it is hard to 'notice' how funny they are any more…