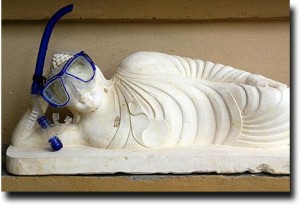 Our second stop over the Christmas vacation was to a dive area on Bali's east coast.
I'm sure you are saying to yourself, "But wait – what about the first stop?!!" Really, I know you are.
Don't worry – we are putting these up all out of order. This is the second stop (Amed), next up will be the first stop (Sanur), and then we'll go on with places three (Ubud) and four (Pemuteran). Trust me.
In any case, the Ahmed webpages for our Christmas trip are now online.They don't hold any navigation to other parts of the Indonesia pages because, honestly, none exist right now. But scoot on over and enjoy the pictures and stories that are already posted – if you are enjoying a nice cold winter, the sun will help warm you up inside!