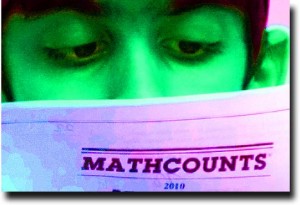 So another year, another Mathcounts.
Unfortunately this time around, we didn't have any schools come in for the tournament, but we still had a good in-house competition.
The kids worked hard – well, at least on the tests. I'm thinking that many of the practices during the year were more of an excuse to get free popcorn than to study math 🙂
But they were tearing their hair out on the tougher problems and put on a fantastic show for the elementary students who came to watch the countdown round.
Of course, I think the highlight of the weekend was seeing the kids' expressions when we pulled out the team t-shirts: they absolutely loved them! And it was also funny to see the reactions on the many adults' faces (cough* Susan *cough) who don't understand what they say.
Dave, on the other hand, is so cool as a middle school teacher that he came up with the slogan and thinks it is a pretty darn good one for a math team:
(ask a middle schooler if you need a translation…)