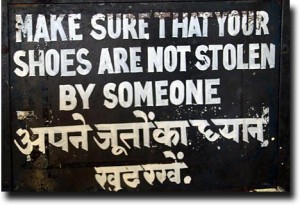 There's no law that says signs have to make sense. On a recent temple visit, I snapped a picture of this warning sign by the shoe storage area. (FYI, whenever you enter any kind of Hindu temple, Jain chapel, Islamic mosque – basically any house of worship that is not Christian – you take off your shoes and leave them outside. This is a sign of humility, as well as an effective way to keep some of the street filth from being tracked in – which is why we absolutely take our shoes off when entering our house. You don't want to track ANY of that stuff in. Shudder.)
In any case, we do know that – while rare – shoe thievery from temples does happen. It happened to someone from our school (who shall remain nameless), who wore his brand new fancy dancy dress shoes (to a funeral, no less!) and ended up having to walk back to the car in his socks. He was especially ticked because he had just bought them recently, but had put off wearing them much so as not to scuff or mar them. I'll bet the shoe thief was thankful for that!
In any case, we've never had such bad luck, but I do find the sign interestingly amusing. I wonder what sort of karma would apply to someone who stole a worshiper's shoes – what would he be reincarnated as?