So I'm back from a long weekend in the extreme India city of Varanasi, and instead of concentrating on posting pictures and the travelogue from that fascinating city (and finishing up the still-undone pages from our Jodhpur trip), I'm posting a few funny pictures. I did put some shots up on Facebook, so if you are my friend you can see them here.
But the topic of today's post is schooling in India. While visiting Varanasi, I noticed that there are several different 'levels' of schooling available. Let's look at them, shall we (and please note that this entire post is firmly tongue in cheek).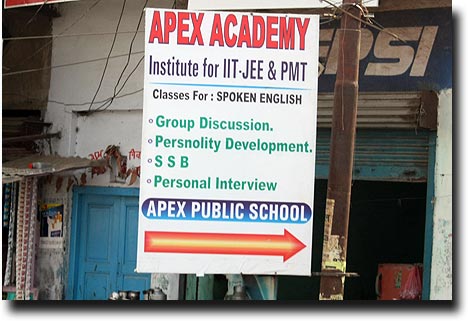 At the very top of the heap is the Apex school, of course. Notice the emphasis on "Persnolity" development; extremely handy to perfect.
The second tier of learning is for the Bright kids – they may not be at the very top of the heap, but they've got some things going for them.
And if you set your sights just a little bit lower, you can attend the Standard Public School. The horizons might be closer, but, you know, it is…standard.
And, down at the bottom, I love this particular school. They are so very proud of their slogan – it is repeated on many signs around town. So now you know where all the slouch-shouldered, sullen Indian kids get their education.
Indifferent children of the world, unite!!