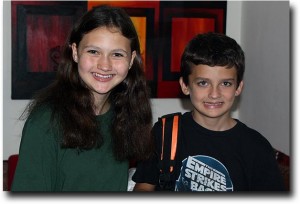 And we're electronically connected to the world! Starting up our fourth year in Mumbai and settling in after a fantastic summer vacation full of family, relaxation, travel, and 'recharging the batteries,' it is good to have a moment to drop a little note here.
Nothing too spectacular at this point – we don't have THAT much time! – but our traditional first day of school photo of the kids. Alea and Breck are both in middle school this year, although Dave doesn't have either of them in his classes. They are seeming to make the transition to seeing each other around fairly well, even though it has only been one day, and hopefully that'll continue throughout the year.
I'm thinking that we'll post some pictures and stories from the summer here as our schedules settle out, so don't be surprised to see some 'old news' from time to time. Heck, we still have 2 sets of travel pictures from the spring yet to post!