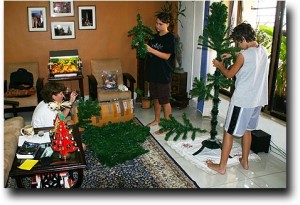 We made it past Halloween this year, but not quite into Thanksgiving. The music has been playing for about a week, and today all the decorations went up too. We did leave the Thanksgiving/fall banner on the door for next week's feast, but we are all tricked out in our Santa Claus finest.
(that is the tree being assembled in the living room. We have a school function to take care of this afternoon and evening, but maybe I'll add a night shot of the finished tree and lights)
And by the way, happy birthday, to my littlest sister!
Follow up – here's the tree at night: