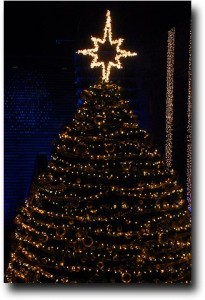 Facing what is probably our last Christmas season in Mumbai, we took another step down that holiday road last night with what has become our favorite yearly community event. The elementary school choir sings at the local Grand Hyatt hotel, the tree's lights are lit, Santa appears, and we all eat 'til we burst courtesy of the best buffet in town.
Although there is a little something disconcerting about celebrating winter and snow as we all stand around sweating in shorts, the evening still manages to convey the best of the season. Throw in the singing voices of a bunch of elementary school kids (and the shuffle-shuffle-shuffle of their parents jockeying for the best spot from which to get that perfect video/picture), and you have the makings of a fun evening.
Last night Susan was not feeling well, so Dad, Alea, and Breck made the Stutz family appearance, and boy did we have a great time! See the pictures and read the rest of the story over on the webpage!