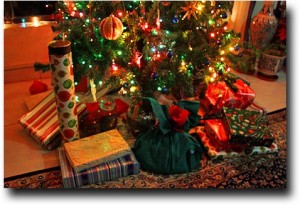 Breck decided, based on a Calvin and Hobbes cartoon he read, to let us sleep in "until quarter to six this year." Actually, he was very responsible, getting up quietly, looking around, and getting into his stocking (Santa neglected to put up a sheet this year; obviously the beer 'n cookies bribe worked). The rest of us – with the girls both fighting colds – rolled out of bed around 7:30.
We got the tunes going and the lights on, and busted into the goodies. By the time all was said and done, there were some definite trends in the gifts received. Breck had an "all flying" year, with Star Wars legos, 2 model airplanes, a dart set, and a Wii fighter pilot game. Many of Alea's gifts were construction-based, with jewelry making, rock tumbling, and dollhouse furniture putting together all making an appearance in her pile. Dave had a heavy metal Christmas, with a set of steel plates and bowls for the cabin, a Ganesh bell set, and a pair of silver candle holders. Susan was picturing the perfect year, with a shot of her and Dave at the PTA gala and an Omani trip.
What a great Christmas morning – now I've got to go play Wii with Breck!!