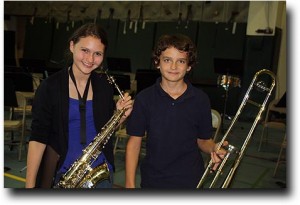 So here they are, at the (maybe) last band concert of the year – Alea and Breck with their instruments in tow!
All the bands played great, and it was a super way to end a Wednesday. There's big pressure on now to buy instruments for them this summer; we'll have to see what the break brings.
Their band director is a fun guy from Minnesota (he actually taught at the same middle school the kids would attend if we lived in the apartment in Lakeville!), and you can see a goofy picture of him by clicking on the existing shot!