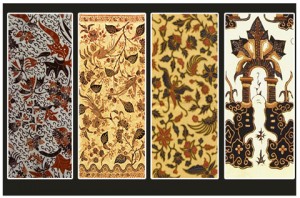 It seems that the unofficial shirt of Indonesian men is made from Batik material. It is loose, airy, and apparently super comfortable to wear. We see people wearing it all around the city, and our administrators make a habit of putting it on quite often (and looking very sharp as well, I might add).
The school is in the midst of taking a reflective look at itself. In addition to it being the 60th anniversary this year, the mission and vision statements were revamped in a "Dream Summit" held at the tail end of last year. One of the really cool 'extras' that came out of that whole process was a decision to embody JIS symbols in a batik pattern specifically designed to personify the school.
Rather than try to explain myself the process, I've attached a pdf (rather large at 5mb – I apologize) that describes all the thought and symbolism that went into the design. I can't wait for it to come out on banners and shirts – that will be an absolutely awesome way to jump right in to the school culture.