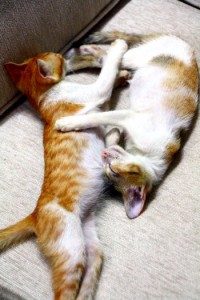 And now it is official: the triple play of rats 'round the house pushed Susan over the edge, and she made the plea for us to get some kittens. We contacted the Jakarta Animal Aid Network, and made an appointment for a lady to bring some kittens to our house for us to choose!! (I love the fact that we can get anything delivered here – even a couple of homeless animals!)
Now, I must say, I was gone when the choosing was done and the namings were named, so I take no responsibility whatsoever for the "interesting" names of our cats: Linsea and NuDorianna. The backstory I got was that Linsea – Alea's choice – is a mix of three friends-from-Bombay's names, and NiDorianna is Breck's homage to a Pokemon character (a show to which I've never even seen him pay any sort of attention.
But they are here, they are pleased as punch to have all the attention they get from the kids (and parents), and they are cute as all get out. Judging from their usual level of activity (pictured here), however, I'm not sure how effective at keeping out the rats they'll be!