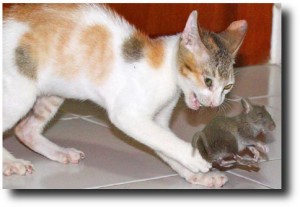 Susan went to fix lunch yesterday, went into the kitchen, and then calmly strolled back into the living room. "Well, goodness mercy oh my," she softly uttered. "It is my distinct impression that there is a hairy, long-tailed rodent nestled deep in Breck's lunch bag." Or words to that effect.
So, we tossed the kittens in the kitchen, blocked the doors to the garage, grabbed the camera, and locked ourselves in the room to search for the rat. After scooting the fridges (yes, we have a beer fridge and a food fridge) and the oven away from the walls, and we went a-hunting.
The cats sniffed all around, looking for the rat, but actually missed it sometimes when it scurried behind them. I was using a spatula to scoot it out from the fridge, and eventually we got it cornered under the stove. Susan suggested that I "wing" him, so the cats had a chance to practice their hunting skills, but I think I winged him too hard. I smacked him with a wooden spoon, and he flew across the floor, twitched a few times, and lay still.
And then, the game changed completely. NiDoriano, the big male hunting cat, stayed in the corner and yawned. Linsea, our sweet female cuddling purrer, started batting the corpse around. She pawed it gently a few times, and then started whacking the heck out of it. She'd jump way up in the air, land on the rat, grab it in her mouth, and throw it around. She was having a great time.
After a bit of this – and a cute video, located below – Susan decreed that enough was enough and that a proper funeral was in order. We wrapped up the rat in a plastic bag (no blood this time, thank goodness) and ran him out to the garbage. At least they seem to be getting smaller, so that's something. No if we could only get the kittens to start acting like cats…