Or not. Our last two days have had their fill of water-related events, so that's the point of this post. We woke up Wednesday morning to no water in the house, which certainly made for some stinkier-than-usual bathrooms! We sent emails to the school's facilities office letting them know about the problem and how it needed to be fixed in a pretty urgent way.
Thanks goodness I had other business to take care of down on the administrative offices side of campus, as I decided to pop in to facilities and see what the status was. There were lots of blank looks when I asked, and one of the people explained that – due to our ongoing migration from Outlook to Google mail services – no emails were coming in to the office and they were unaware of our issue. Oops!
They did manage to get people out there, and a burned out pump was the diagnosis. Once the pump was received and installed, a leaking pipe was also found. When that was removed, repaired, and returned, everyone was all ready for the big test.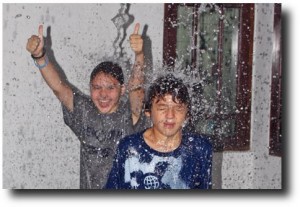 And then the neighborhood's electricity went out.
So the team sat around for better than 2 hours, waiting for it to come back on (so the pump could be tested), but I finally told them to go home when it was evident they could be waiting all night. As things turned out, it was close to another 2 hours before the lights came back on, so that was a good call.
But – this morning we had water! So that was a happy ending.
And then tonight we had even more water. The skies opened up and the rains fell – which scared the heck out of NiDoriano and Linsea. They were fascinated by the wind and the noise, but whenever a raindrop hit them, they skittered back inside.
Of course, our kids had no problems with the rain (they never have, as the picture on this page proves). They rushed right outside and started having a great time. From taking showers in our roof runoff to fashioning leaf-drinking cups, they splashed and dashed in the falling water.
We'd been waiting for the rains, and although I don't think this is the start of the monsoon yet, it certainly was some well-deserved quenching of the dry weather we've had recently.
And – tomorrow's Friday!!!