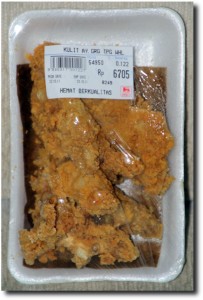 Grocery shopping today, I passed the meat counter, and there was fried chicken for sale. I felt like a snack, and took the smallest packet available. When I opened it up, though, I was in for a surprise:
It was a packaged portion of fried skin! I always get mocked at the in-laws' Thanksgiving dinners, when my brother-in-law and I fight over the turkey skin. Well, apparently we would not be laughed at in Jakarta, where it is available in the local supermarket.
Eat your heart out, Uncle Kevin!